"Jenner, you can't kill Nicodemus!"
Sullivan is the anti-villain. He was a Rat of NIMH and supposedly unwillingly Jenner's sidekick. He died from wounds after
Jenner
slashed his neck with a sword.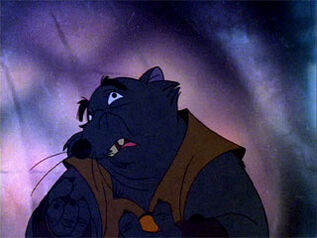 Secret of NIMH
Edit
Sullivan first appears in the Council of the Rats with Jenner until Mrs. Brisby arrives with Mr. Ages and Justin to seek the rats' aid. Sullivan states that the lower animals (Mice) should fend for themselves and the rats have problems of their own. He quickly changes his mind when Justin says that she is the wife of Jonathan Brisby. Sullivan is seen again in the scene after the Council where Jenner concocts a plan to kill Nicodemus during the moving of the Brisby home. Sullivan is hesitant to agree at first but is persuaded. Sullivan's final appearance is at the climax of the film, where Jenner is standing by ready to cut the ropes holding and moving Mrs. Brisby's house. Sullivan does not participate and is pushed aside by Jenner who then proceeds to cut every rope, killing Nicodemus.
Jenner wounds Sullivan when he hands Justin his sword by slashing his stomach for betraying him, but Sullivan weakly gets up and throws his dagger into Jenner's back. Killing him; Sullivan then dies from His wound seconds afterward he had sacrificed himself to save Justin.
Allegiance
Edit
There is some debate among NIMH fans, some say that Sullivan was not evil at all. Sullivan was most probably afraid of what Jenner would do if he did not co-operate .
Trivia
The Sullivan would be part of the name of Sullivan Bluth Studios the animation studios by Don Bluth.