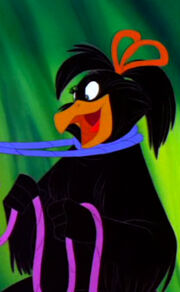 Miss Right
is a
Jeremy the Crow
's girlfriend who appears at the end of
The Secret of NIMH
.
"Miss Right" is a minor character from The Secret of NIMH. She is the girlfriend of Jeremy who is voiced by Edie McClurg.
border="0" cellpadding="4" cellspacing="0" style="float:right;margin:0px;width:248px;background:rgb(240,240,240);border-collapse:collapse;vertical-align:middle;"
Background information
Voice
Edie McClurg
Character information
Personality
Merciful, intuitive, silly, sensitive, resourceful, imaginative, giggly, happy, thoughtful, mild-mannered, innocent, sentimental, sweet-tempered, relaxed, independent, great-hearted, helpful, trustworthy
Appearance
Slender black crow
Alignment
Good
|- |}
Ad blocker interference detected!
Wikia is a free-to-use site that makes money from advertising. We have a modified experience for viewers using ad blockers

Wikia is not accessible if you've made further modifications. Remove the custom ad blocker rule(s) and the page will load as expected.