"I'm not even afraid of- of the Great Owl!
"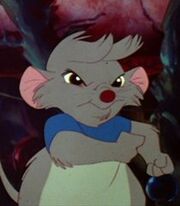 Martin Brisby is the second oldest and most flamboyant of Mrs. Brisby's children. He was voiced by Wil Wheaton as an 8 year old, Philip Van Dyke as a 12 year old, Eric Idle as an evil 19 year old, and Martin Phillips as a reformed 19 year old.
Secret of NIMH
Edit
Martin Brisby is first seen home alone with his siblings until Auntie Shrew arrives to inform Mrs. Brisby of Moving Day. Mrs. Brisby is not present so the shrew decides to wait. Martin provokes an argument with Auntie Shrew which prompts her to leave; Mrs. Brisby arrives and is told to keep Martin under control and that Moving Day is at hand. Additionally, she tells Mrs. Brisby to move her "very odd family". Martin is not seen until the Shrew tells him and his siblings to watch Jeremy the Crow. And after that he is not seen until the climax of the movie where the house sinks into the mud. His final appearance is in the final moments of the film.
Secret of NIMH 2: Timmy to The Rescue
Edit
Martin plays a larger role in the sequel, he first appears in the sequel having fun with Timmy and escapes from a van which reads "N.I.M.H". For the majority of the movie he is not present until the end of the movie where he is introduced as the villain. He had three voice actors,When he was good in the beginning of the movie he was voice by Phillip Van Dyke the third voice of Arnold from Hey Arnold from seasons 2 and 3 ,When he turned evil he was voice by British actor Eric Idle and when he was 19 and turned back to normal he was voiced by Phillip Glasser the voice of Fievel Mousekewitz from An American tail a movie that Don Bluth directed after the first secret of Nimh movie which was Phillips last time to voice before in 2001 he retired acting to be a film producer
Ad blocker interference detected!
Wikia is a free-to-use site that makes money from advertising. We have a modified experience for viewers using ad blockers

Wikia is not accessible if you've made further modifications. Remove the custom ad blocker rule(s) and the page will load as expected.