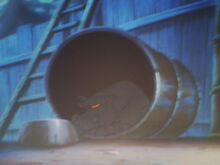 Killer the Bulldog is one of the antagonists from The Secret of NIMH 2: Timmy to the Rescue. He is voiced by Frank Welker.
Killer the Bulldog says in dog sound effects GRRRRRRRRRRRRRRRRRRRRR! WOOF WOOF! AAAAAAAAAAAAAAAAAAAAAAAAAAAAAAAAAAAAAAAAAAAAA! MM RM RM RM RM RM RM! ROOF WOOF!
Killer was modeled after a violent bulldog from the Cujo films.
His voice artist, Frank Welker, is also the current voice of Butch the Bulldog, Pluto's nemesis, and he also voiced Reggie from the Disney film Lady and the Tramp II: Scamp's Adventure.
KIller, Muriel, and Floyd were the only antagonists to appear in the sequel.