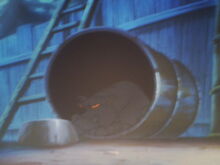 Killer the Bulldog is one of the antagonists from The Secret of NIMH 2: Timmy to the Rescue. He is voiced by Frank Welker.
Killer the Bulldog says in dog sound effects GRRRRRRRRRRRRRRRRRRRRR! WOOF WOOF! AAAAAAAAAAAAAAAAAAAAAAAAAAAAAAAAAAAAAAAAAAAAA! MM RM RM RM RM RM RM! ROOF WOOF!
Killer was modeled after a violent bulldog from the Cujo films.
His voice artist, Frank Welker, is also the current voice of Butch the Bulldog, Pluto's nemesis, And he also voiced Reggie from the Disney film Lady and the Tramp II: Scamp's Adventure.
Ad blocker interference detected!
Wikia is a free-to-use site that makes money from advertising. We have a modified experience for viewers using ad blockers

Wikia is not accessible if you've made further modifications. Remove the custom ad blocker rule(s) and the page will load as expected.